Marina Slipway Washbay
&

Recycling
CUSTOMERS: Major Yacht Club, Perth
LOCATIONS: Swan River, Western Australia
Application
Removal of oil & dissolved metals in the wastewater from Slipway wash down area
FLOW RATE Flow Rate up to 2,500 L/hr (60KL/day)
OBJECTIVES
Treat washbay water with contaminant levels:
| | |
| --- | --- |
| oil heaviiy emulsified | 30-200 mg/) |
Removal of E.coli, Copper and organic metals
Manage carpark runoff to Swan River:
Treat stormwater hydrocarbon runoff before entering into marina & river bodies
Water Treatment Recycle System to remove hydrocarbons & copper to reuse water onsite. Ozone technology used for safe sanitation of water for reuse, no chemicals used.
Carpark Runoff
Garpark drains fitted with MyCelx Snippets to remove oil entering stormwater drains
Containerised Water Treatment System 6m x 2.5m
Major renovations were undertaken at the Yacht Club to include a new Travel Lift Wash Boat Stand. Requirements to be meet included the daily flow rate 60,000L per day with water conditions including;
Max Est. inflow oil in water concentration – 0.05% (i.e.500ppm)
Free & Dispersed with emulsified & soluble oil, grease & fuel
Solvent paint / thinners
Max water temperature 30 deg C
Range pH 7.2 approx.
The treated wash water from the vessel wash pad also needed to be suitably treated for removal of fuel, oil, grease, paint, antifoul, solvent & thinners and be safe after treatment for recycling back on the wash pad and hardstand areas. Discharge to the river would require very strict monitoring and low levels to be achieved without fail and to be proven for various regulations and trusts.
OLEOLOGY's total capture and recycling system meant that all waste water and first flush rain water could be captured in tanks and treated to Department of Health guidelines and reused through the pressure washers, hardstand taps and gardens of the club when required. Saving capital costs and instantly compliant to all regulations.
As there is no waste water discharge going direct from the hard stand area back to the sensitive environment of the Swan River. The West Australian Department of Environment and Regulation gave their approval for the installation and in the Summer of 2017 when the solution was installed.
The treated water is collected in above ground tanks with a holding capacity of 30,000L, the treated water tanks also provided water in case of emergency for firefighting water.
The i-smart treatment system can be carefully monitored by the Remote Monitoring technology ensuring OLEOLOGY technicians have real time access to ensure the system runs smoothly and efficiently, day in day out.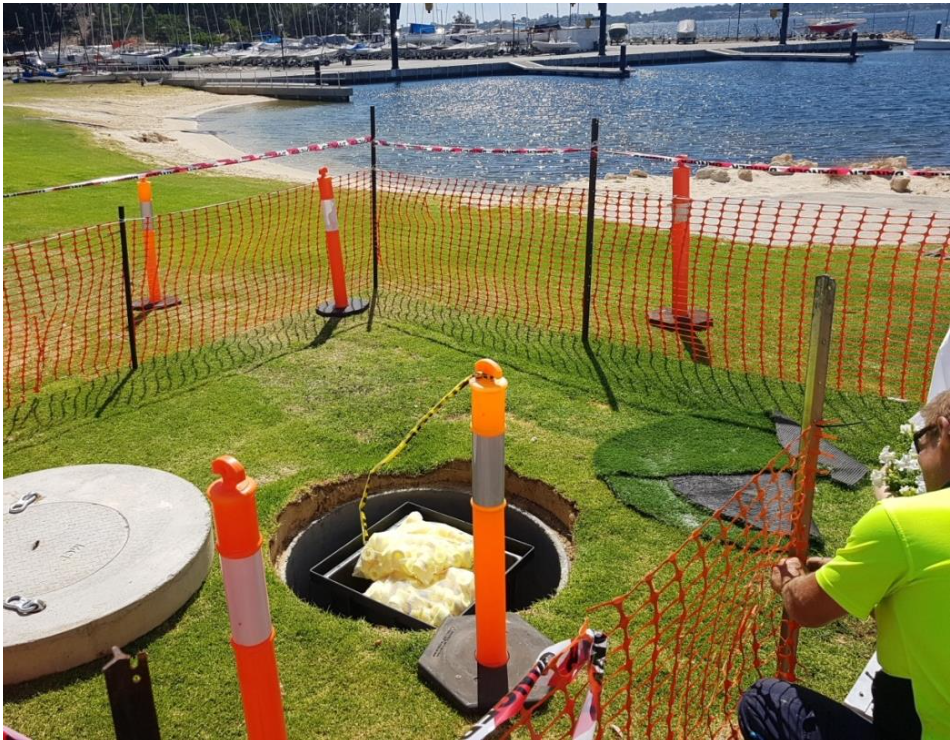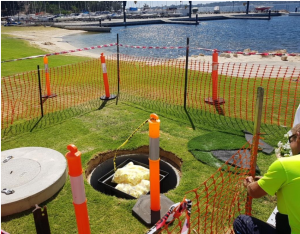 Adjoining car parks required treat storm water for oil, grease & sheen removal with in pit stormwater Snippet Bags. These required minimal maintenance and
6month visual inspection.
The commissioned Water Treatment Plant enabled the following benefits: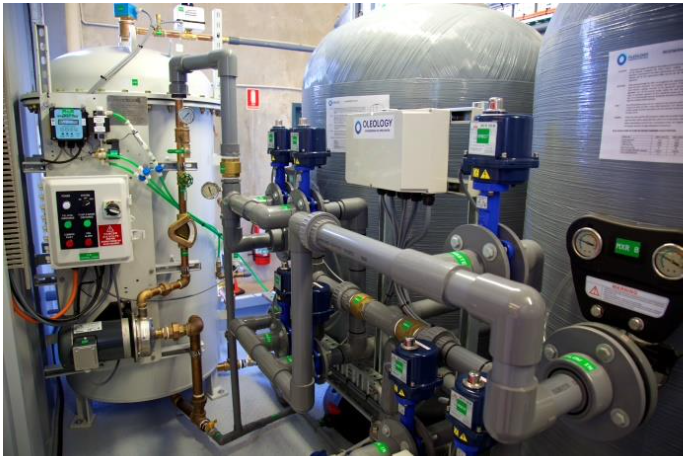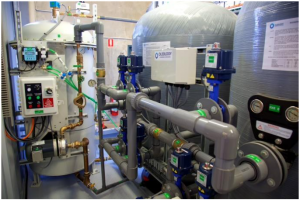 Reduce water usage – potable water usage has declined with the incline of recycled water onsite
Available 30,000KL clean water ready to use at the washbay or firefighting activities
Reduce running costs to treat water
Risk reduction for environmental compliance with relevant environmental regulations and river associations.
Approval to extend the jetty and other site developments was dependent on the installation of a Water Treatment Recycle System for the washbay
In summary the client future proofed themselves against the cost of water increases in the future, as well as covering against future liability as environmental regulation becomes tighter with public awareness and government enforcement for water treatment solutions to be implemented.
OLEOLOGY Water Treatment Systems adhere to the Department of Health (DOH) compliance for recycled water with success being 100% water availability.
Please call OLEOLOGY 1300 948 756 or email sales@oleology.com.au