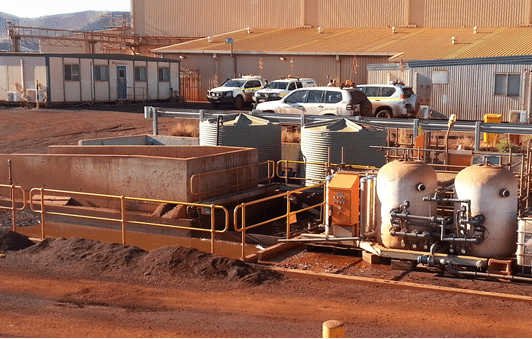 Refuelling, Workshop 
&

 Washbay Water Treatment
Reuse Water from HV Washbay, Refuelling & Workshop for Dust Suppression 
CUSTOMERS: Major Iron Ore Miner
LOCATIONS: Pilbara Region, Western Australia
Business situation
The client operates under a mining license with environmental compliance requirements for discharge of water
Existing water treatment cannot achieve compliance for discharge at site
Increasing site activity has increased the volume of water to be treated increasing the problem of waste and non-compliance
Technical Situation
Water from a variety of sources has degreasers, truck wash detergent, floor cleaners is all piped to the one collection sump for treatment.
Water is used to clean
Additionally water and diesel spills from the refuelling bunded area and storm water runoff are directed to the single collection sump, where spikes of fuel are mixed with surfactants from the degreasers and cleaners emulsifying the hydrocarbons into the water.
A coalescing plate separator (CPS) had been installed and is not able to remove hydrocarbons to compliant levels. A hydrocyclone with air induction was trialed at site and failed to reduce the contaminants to a compliant level.
None of the equipment at site nor the equipment trialed has been capable of removing the emulsified oil and fuel from the waste water.
Solution
OLEOLOGY trialed MyCelx at site equipment to remove the emulsified oil and fuel, proved compliance of the treated water then finalized a permanent installation.
The MyCelx equipment incorporated to MXR1200 filter housings in series with backwashable REGENerable media and polishing with MyCelx cartridge filters. The equipment was skid mounted ready for site reconnection. The system processing and backwashing functions are controlled by PLC. The frequency of backwashing is able to be refined by the operator, to improve system performance and service life
The discharge water is clear and bright < 10ppm Total Petroleum Hydrocarbons and < 15mg/L Total Suspended Solids. MyCelx is proven to remove emulsified hydrocarbons from water in the presence of detergents and surfactants.
Benefits
The processing of water and backwashing is automated reducing resources of manpower required for operator intervention. The MyCelx treated water is supplying compliant water for dust suppression. Additionally, the system has a high flow capability enabling increased treatment capacity of water in excess of the rated capacity of the existing CPS.
During storm events or major washdowns and water inflows, the system bypasses the primary treatment of CPS and processes water through the MyCelx stages only, at a flow rate 2 & ½ times as fast as that of the CPS. Allowing for treatment higher flows without further capital expenditure nor compromising water discharge quality.
https://oleology.com.au/wp-content/uploads/2021/01/refuel_workshop-1.png
339
532
manager
https://oleology.com.au/wp-content/uploads/2019/02/logo.png
manager
2021-01-27 06:23:26
2021-01-27 10:48:28
Refuelling, Workshop & Washbay Water Treatment