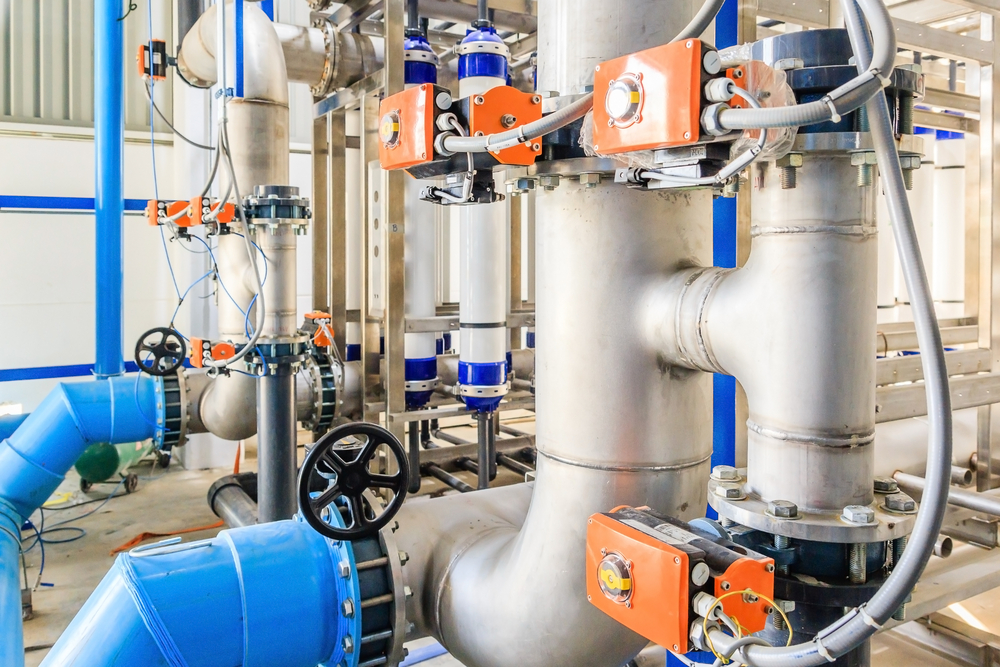 Water has many uses in many different industries, ranging from petroleum exploration and mining to agriculture. In most cases, water that gets used needs to be treated in order to be recycled or disposed in accordance with local laws. In other industries, such as food production, raw water entering a factory needs treatment to meet tight quality specifications to be used in those processes.
Industrial water treatment encompasses all these aspects. The technology used to treat water varies depending on its intended use. Below we look at how different treatment systems are applied to suit their purposes.
Agriculture
The agriculture industry is perhaps the most reliant on a steady and reliable water supply. This is a particularly significant challenge in a large, dry country like Australia that often suffers from droughts. Agriculture faces the combined challenge of water availability as well as water quality.
A water treatment system, in this case, needs to be capable of removing contaminants (chemical and biological), managing salinity (lethal to crops), and ensuring pH levels are safe and within parameters for crops and livestock. These requirements can change depending on the unique profile of the agricultural property. As a result, the only practical solution is a custom-designed water treatment solution.
Local Councils
The average city street contains a large number and variety of contaminants, including domestic chemicals, detergents, oils, and paint. When it rains, these contaminants can pose a significant threat to local marine environments.
Local councils around Australia combat this threat by installing various stormwater treatment systems in drains and other at-risk areas, for example, at the base of trees to protect root systems as achieved in the City of Perth (add hyperlink). Once again, this requires a customised solution designed in accordance with existing infrastructure in the city.
Marina
Owners and operators of boatsheds, marinas and slipways depend on clean waterways to sustain recreational and commercial marine activities. The marina industry faces a variety of threats, from oil spills to the inappropriate release of bilge water.
Organisations in this industry can prevent pollution to the waterways by using quick deploy booms to protect against oil spills and customised marina treatment systems that capture and remove pollutants from fluid transport networks in slipways.
Mining
 Like companies in the agriculture industry, mining companies must reduce costs associated with the enormous amounts of water used in their activities. This generally involves installing a system that can treat wastewater, which can then be reused for cleaning vehicles on site. OLEOLOGY's Market Leading System can remove oil and hydrocarbons down to 1 ppm, ensuring wastewater can be safely and compliantly disposed of.
Oil and Gas
Water can become contaminated with oil at all levels of gas and oil-related operations, from exploration and production to refining and fuel distribution. Water treatment systems are essential for on going operations however restictions of available space, available personell to maintain the system and recycled or safely disposed of in accordance with environmental regulations. The Technology of oil separation demonstrated by MyCelx filtration has surpassed all restrictions as proven in the field (add hyperlink to O&G case studies).
OLEOLOGY Water Technology
Get in touch with OLEOLOGY today for an affordable, effective water treatment solution. We can custom design our technology to suit your industry and specific needs.
For more information, call us today on 1300 692 359 or contact us online.
https://oleology.com.au/wp-content/uploads/2017/09/Order-2855-Image-7.jpg
667
1000
manager
https://oleology.com.au/wp-content/uploads/2019/02/logo.png
manager
2017-09-07 00:21:29
2020-03-23 00:00:47
Water Treatment Technology: A-Z