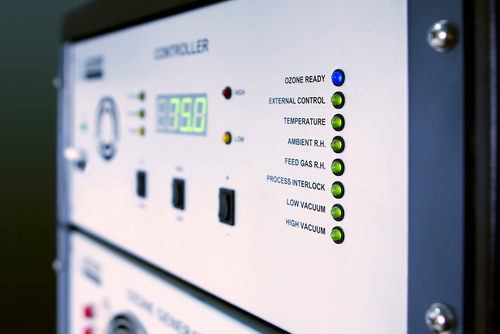 With water treatment applications dating back to the 1800s[1], ozone is the very definition of a tried and tested wastewater treatment method. Ozone is a gas that has no colour and a fresh aroma that often accompanies an oncoming storm[2]. More importantly, ozone water treatment is a safe, efficient and environmentally friendly solution. The key to ozone's effectiveness in water treatment is in its formation. It can be made from oxygen alone, giving it a raft of advantages over other water treatment solutions.
How Is Ozone Formed?
 According to the Water Research Center, ozone is made up of three oxygen atoms and is formed when you apply energy (generally electricity or UV radiation) to oxygen. By passing air through an ozone generator, you can create this useful chemical, which can then be applied to water in order to remove metals, bacteria and other substances. This works by pulling the ozone into the wastewater and letting it react with the metals, which can then be filtered out.
Why Ozone Is Recommended for Wastewater Disinfection
Said simply, ozone water treatment is a chemical-free, low-cost solution to water sterilisation or disinfection. As a resource, ozone is completely renewable and the resources involved in its production are renewable, too. This solution can significantly lower costs on an ongoing basis while ensuring an environmentally-friendly solution for your water treatment.
Other advantages to ozone treatment include:
Reducing and eliminating OH&S concerns
Eliminating by-products and waste products in the water disinfection process
Removing chemical hazards ? and the need to store them ? from the process
More for Your Money ? the Extra Benefits of Ozone
As well as successfully removing metals and giving new life to your wastewater, [link to post 2] ozone has a range of complementary benefits that are undoubtedly value adding. As a business, investing in these extras makes sense. As well as getting a safer, less chemically-dependant, greener worksite, you can take advantage of:
Removing the colour from wastewater ? Are you using short lifespan, high volume and expensive chemicals to treat your water? Save money and do it the natural way with ozone.
Removing the odour from wastewater ? Similar to the above, the oxidation process can remove odours during disinfection, a win-win for efficient operations
Removing micro-pollutants from wastewater ? Ozone can remove organic contaminants as well as heavy metals. Simplify your water treatment process and ensure complete compliance with ozone to recycle your water.
You can learn more about the primary and secondary benefits of ozone here.
Where Is Ozone Already Used?
 The applications for ozone water treatment have only been growing since the 1800s. Today, new applications are emerging all the time, with large-scale treatment options becoming a reality in areas such as:
laundry disinfection
cooing tower disinfection
aquaculture applications
cyanide destruction
Get the Ozone Advantage with OLEOLOGY
Based in Western Australia and servicing Australia and NZ, OLEOLOGY offers a full suite of highly effective water treatment solutions. To invest in ozone water treatment for your needs, call 1300 692 359 or contact us online.
[1]http://www.water-research.net/index.php/ozonation
[2]https://www.scientificamerican.com/article/storm-scents-smell-rain/
https://oleology.com.au/wp-content/uploads/2018/09/Order-2141-Blog-9.jpg
334
500
manager
https://oleology.com.au/wp-content/uploads/2019/02/logo.png
manager
2018-09-14 02:27:51
2020-05-18 10:10:32
What Is Ozone Water Treatment & Why Is It So Effective?